Create The Login Page
Open the new page wizard

Then select the Wizards tab and select LoginPageWizard and name it login.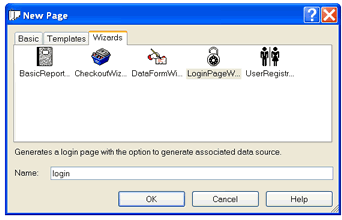 Step 1. If you used the registration wizard, this page will be automatically filled in so leave it as is and just click next.
Step 2. Choose how you want the login to work, Cookie or Session. Be sure to choose the same options as you did for the registration page wizard Then click next.
Step 3. Choose what information should identify the user. Choose the same as you did for the registration page. Click Next
Step 4. Now select the entrance page, users will be sent to this page after they login. This is the page we set up at the start of this tutorial. Click Next

Click Finish and the page will appear in the design editor so you can give it the required look and feel and add items such as text or images and change fonts and colours.

Now Create the Members Login Pages - Click Here to continue.